Upcoming Events

Oct 1, Help Clinic, 9am - noon(Also see
Remote Help
)

Oct 4, Highlands Pub & Patio: BVCC Give-Back Tuesdays

Oct 10, 7pm General Meeting: "Q & A: Panel of Experts"

Oct 18 "Basic Computer Security, Pt 1" (in Training Center)

Oct 19, Help Clinic, 9am - noon(Also see
Remote Help
)

Oct 26, 9am-11am "Building a Password Manager Using Excel" (in Training Center)
SPECIAL ANNOUNCEMENT: BVCC has been scheduled as a participant in the Bella Vista POA Give-Back Tuesdays for the first Tuesday in October, October 4, at the Highlands Pub & Patio, 1 Pamona Dr., open 11am - 8 pm. BVCC will receive 10% of the food sales on that day as a donation. If you are planning to eat out that week, consider the Highland Pub & Patio on the 4th. To see regular menu items, click here.
October 10, 7pm General Meeting: Topic: "Q&A: Panel of Experts", with Woody Ogden and Pete Opland. Another opportunity to submit your computer-related questions to our panel. If our panel doesn't know the answer, someone else in the audience may. Questions accepted in advance or from the floor; but If you know your question in advance, email your question to Q.and.A@bvcomputerclub.org, in case research is required to give the best answer. This will be an in-person meeting (with Zoom simulcast) in Room 1001 in the lower level of Highland Crossings Center, 1801 Forest Hills Blvd., Bella Vista, AR. Links to Google Maps for the location of HCC and for directions inside HCC are located at the bottom of this web page.
For those who are uncomfortable with an in-person meeting because either they or others in their household are still in high risk categories for COVID-19, the concurrent Zoom broadcast of the General Meeting can be joined 5 to 10 minutes before the meeting by clicking this Zoom link, or manually specify Meeting ID: 881 1609 3643 and Passcode: 6rgW5p .
Although reported COVID-19 cases in Arkansas and in Benton Country may be stabilizing, there is still a significant presence nationwide and in Arkansas. In-person attendees should stay alert for any changes in guidelines by the day of the meeting.
Visitors and Guests are welcome. For an explanation of using Zoom for BVCC meetings, see the article in the May Bits & Bytes newsletter. The Zoom application can be installed on PCs, Macs, and mobile devices for free.
We produce a monthly Bits & Bytes Newsletter and have a monthly general meeting open to the public at 7pm on the 2nd Monday of the month. For our members we also provide Help Clinics (Member Benefits ►Help Clinics), remote help (Member Benefits ►Remote Help), classes (Member Benefits ►Classes ►Scheduled), and a Genealogy Special Interest Group (Member Benefits ►SIG). Upcoming meetings and events may also be found on the monthly calendars at Member Benefits ►Calendar.
1 / 4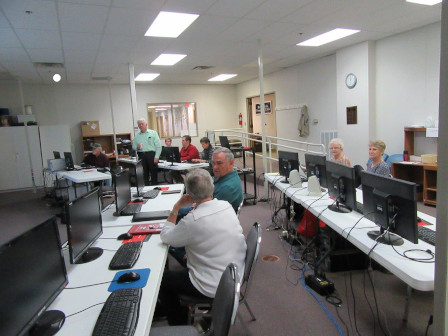 Computer Security Class, Nov 2017
2 / 4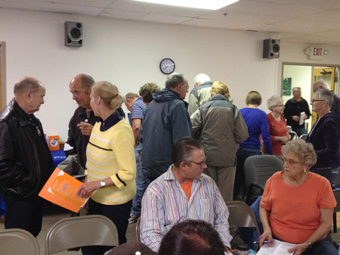 Course Signup at General Meeting
3 / 4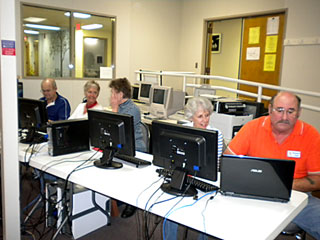 Help Clinic
4 / 4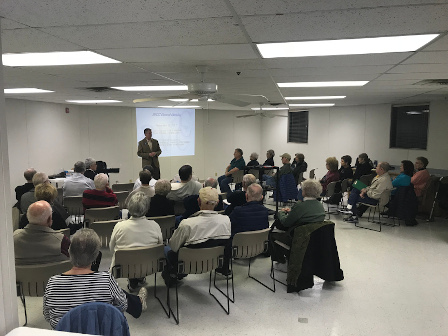 General Meeting
❮
❯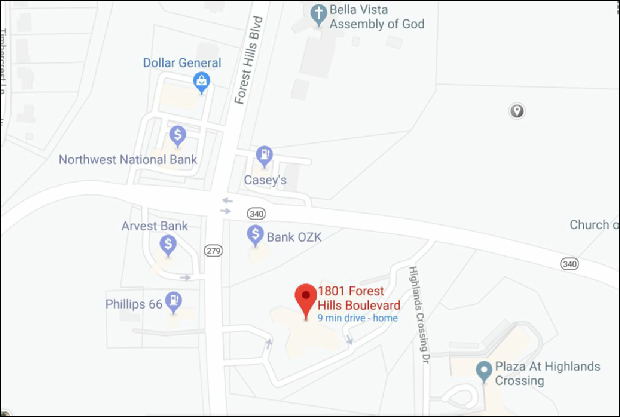 Where we are located
Directions Inside HCC